For sales inquiries,
please contact us at:

sales@thecus.com
For marketing inquiries, please contact us at:

marketing@thecus.com
2006-01-27
Digital storage that's as active as you are
01/27/2006 – Taking shots of the kids on a family vacation. On an airplane drowning out jet turbine noises with soothing MP3s. Making some hilarious movies of friends with a digital camcorder. Everywhere you look, digital media becoming an essential part of our everyday lives. Wouldn't it be great to not only conveniently take large amounts of digital storage with us, but also backup our precious photos, videos, and music on the road, without the need to haul around a bulky laptop? Now you can. Thecus Technology is proud to introduce the YES nano N1050 OTG Photo Bank. Featuring on-the-go backup, large storage capacity, and USB connectivity, the YES nano N1050 delivers digital storage that's as active as you are.
The first thing you'll notice is just how small the YES nano N1050 is. Measuring a scant 124 x 75 x 13mm, the YES nano N1050 is barely larger than the 2.5" hard disk it houses. With 2.5" hard disks reaching 100GB or more, the YES nano N1050 can accommodate massive storage in form factor that fits quite handily in a purse or coat pocket. With the included protective carrying case, the YES nano N1050 makes a perfect travel companion. What's more, because the YES nano N1050 accepts standard 2.5" IDE hard disks, users can select the capacity that's right for them. A casual user that needs to bring files home from the office? A 20GB hard drive will suffice. A multimedia mogul that can't seem to let go of their digital camcorder? Slap in a 100GB hard drive and capture that Oscar-worthy documentary. With theYES nano N1050, the choice of capacity is yours.
Despite its diminutive measurements, this pint-sized wonder is a dual function device that allows you to not only stores large amounts of digital media, but also enables you to backup your digital devices on-the-go. Imagine never worrying about running out of storage or losing your data while on the road! Digital camera or camcorder almost out of space? Simply plug your digital device into the YES nano N1050's USB port, press the copy button, and backup your entire memory card or internal hard disk at speeds of 480Mbps - no computer necessary! With virtually unlimited storage space, the YES nano N1050 grants not only peace of mind, but also the freedom to unleash your creativity.
The YES nano N1050 is built for ease-of-use. Transferring files and from the YES nano N1050 is a simple affair, involving the plugging of a USB cable and the flick of a switch. Backing up files on-the-go requires plugging in a USB device and pressing a button. Engineered for simplicity, the YES nano N1050 lets you spend less time fussing, and more time enjoying. But what about running out of juice on the road? The YES nano N1050 has you covered. The YES nano N1050 can be powered by a USB-DC power cord, or via the included external power pack. Best of all, the external power pack accepts standard AA batteries, ensuring that the YES nano N1050 is ready whenever you are.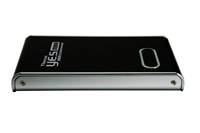 "With the YES nano N1050, users finally have a great way to store and backup their digital media anytime, anywhere," notes Thecus CEO Edwin Lin. "Smaller than a compact disk with 140 times the capacity of one after installing a 100GB hard drive, we feel that the YES nano N1050 is going to be popular with those that need access and backup their digital media libraries the road. Travelers, your digital savior has arrived."
For more information on Thecus, go to: http://www.thecus.com/
---
About Thecus
Thecus® Technology Corp. specializes in IP Storage Server solutions. The company was established in 2004 with the mission to make technology as transparent and easy-to-use as possible, and to make products that are not only the best on the market, but are accessible to experts and novices alike. With a best-in-class R&D team highly experienced in storage hardware and software and with a keen customer focus, Thecus® stays close to the market to develop high-quality products to fulfill the storage needs of today's world.
For more information, please visit the Thecus® website at: http://www.thecus.com For sales and other inquiries, please contact us via email: sales@thecus.com
---
About Thecus®
Established in 2004, Thecus Technology Corp provides market leading network attached storage and network video recorder solutions, committed to revolutionize how everyone from home user to enterprise level business centrally stores, manages and accesses their digital data both onsite and cloud-based. Thecus strives to deliver continuous innovation through cutting edge technology and design to provide data storage with the most customer-friendly platform, rapid performance and robust security. In May 2016, Thecus was formally acquired by Ennoconn Corporation and thus became part of the Foxconn IPC Technology group. Partnered together this diverse group of companies work in tandem to provide a total IoT (Internet of Things) solution. Now with an unparalleled portfolio to work with, Thecus is collaborating to bring unprecedented change to the network storage industry.
For sales inquiries, please contact us via email: sales@thecus.com
For marketing inquiries, please contact us via email: marketing@thecus.com