For sales inquiries,
please contact us at:

sales@thecus.com
For marketing inquiries, please contact us at:

marketing@thecus.com
2009-05-11
"The Thecus M3800 is the device to buy…the Thecus M3800 has it all"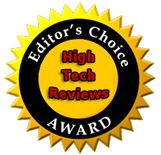 05/11/2009 – The M3800 from Thecus® is the perfect NAS device for people looking to not only safeguard their data, but also enjoy their digital media across their entire network. Recently, High Tech Reviews put the M3800 to the test, and what they discovered was a powerful, flexible and easy-to-use three-bay NAS with some very nice extras. In the end they liked it so much that they decided to give it their coveted Editor's Choice Award!
High Tech Reviews begins with an overview of the M3800: "One of the things that raises the Thecus M3800 so far up the bar is the fact that worked very closely with AMD and based M3800 around the AMD Geode™ processor, what they came up with is a design concept that is centered on the home theater…But the goodness doesn't end there. The M3800 is the currently the only 3-bay NAS device with home theater video and audio sharing functionality. The M3800 supports RAID 5 for excellent data security, and adds wireless capability to allow all users throughout the house to enjoy stored media anytime they please. In addition, the M3800 supports USB webcams, making it easy for users to keep tabs on what's happening in their homes for added peace of mind."
Here's how the M3800 found a place in the editor's home: "We have been using the Thecus M3800 for just over two weeks now and it has become one of the most used pieces of our home entertainment center. What I have done with the M3800 is to add a pair of 750GB hard drives (these were added after all of the pictures were taken). I now use it to store all of the pictures from my web site along with all of the reviews. I have also setup two additional folders, one is for MP3 files and the other for storing movies."
The conclusion? "If you want to purchase a Network Assisted Storage device that will last you many years and has the capabilities to do firmware updates as things change, the Thecus M3800 is the device to buy. The Thecus M3800 Network Assisted Storage device very well may be the most feature packed NAS device on the market. From mounting ISO files, to acting as a file server or streaming MP3 and movie player the Thecus M3800 has it all."
For the full review, check out:
http://www.hi-techreviews.com/index.php?option=com_content&view=article&id=9569%3Athecus-m3800-streaming-nas&catid=14%3Acurrent-reviews&Itemid=80
For more information on the M3800, check out:
http://www.thecus.com/products_over.php?cid=23&pid=55
---
About Thecus
®
Thecus® Technology Corp. specializes in IP Storage Server solutions, including Network Attached Storage (
NAS
) , DAS, External Storage and Wireless Media
NAS
(Bank ) products. The company was established in 2004 with the mission to make technology as transparent and easy-to-use as possible, and to make products that are not only the best on the market, but are accessible to experts and novices alike. With a best-in-class R&D team highly experienced in storage hardware and Linux software and with a keen customer focus, Thecus® stays close to the market to develop high-quality products to fulfill the storage Server needs of today's world.
For sales inquiries, please contact us via email:
sales@thecus.com
For marketing inquiries, please contact us via email:
marketing@thecus.com
---
About Thecus®
Established in 2004, Thecus Technology Corp provides market leading network attached storage and network video recorder solutions, committed to revolutionize how everyone from home user to enterprise level business centrally stores, manages and accesses their digital data both onsite and cloud-based. Thecus strives to deliver continuous innovation through cutting edge technology and design to provide data storage with the most customer-friendly platform, rapid performance and robust security. In May 2016, Thecus was formally acquired by Ennoconn Corporation and thus became part of the Foxconn IPC Technology group. Partnered together this diverse group of companies work in tandem to provide a total IoT (Internet of Things) solution. Now with an unparalleled portfolio to work with, Thecus is collaborating to bring unprecedented change to the network storage industry.
For sales inquiries, please contact us via email: sales@thecus.com
For marketing inquiries, please contact us via email: marketing@thecus.com