For sales inquiries,
please contact us at:

sales@thecus.com
For marketing inquiries, please contact us at:

marketing@thecus.com
2009-04-06
Three-bay NAS wins "favorite product" and "silence" awards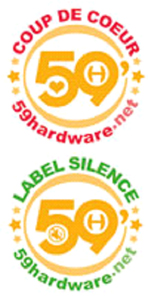 4/6/2009 – The Thecus® M3800 is ideal for people wanting to enjoy their digital content quickly and easily over their home networks. 59Hardware.net took one into their labs to see what the excitement was about, and after putting it to the test, found out that it was not only very powerful, but also very silent during operation. In the end, they simply had to award it with two separate awards: "Favorite Product" and "Silence"!
The M3800 is extremely easy to use and put together: "Like the N3200, the M3800 has flair with its digital display, USB 2.0 and five buttons on the front. The upper part is a cache which, when removed, reveals three slots for SATA drives. Fixing rails is accomplished by using two large screws by hand. Simple and effective...To mount a hard disk in the NAS, begin by installing two slides that come with the unit. Then comes the hard part - using two large screws to secure the drives into the chassis. The M3800 is equipped with the very best type of hard drives cages: Hot plug, no screws and directly accessible. The front cover can be removed simply by pushing it upwards."

The M3800 is no slouch in the performance department either: "FTP flows are excellent, from the AMD Geode leaves every opportunity to express themselves freely M3800: 55.7 MB / s reading is slightly below the RAID 1 (only 4.4Mb / s)… What about the noise generation of the M3800? It is among the best pupils in its class - the noise comes mainly from hard drives, and the NAS itself is silent. For the NAS not much to say about it, Thecus offers great product performance and is silent as well!"
The conclusion? "The M3800 is a good example of integrating the two devices in 1 relatively successfully. Of course, everything is not perfect, but the NAS is good as are the multimedia features. Transfer rates are high, and among the best we have been able. RAID 5 is still very powerful despite the demand for CPU power it generates, so the AMD Geode is properly doing its job."
For the full review, check out:
http://www.59hardware.net/Tests/Boitier_externes_cle_USB_reseau/
Test_du_Thecus_M3800_:_NAS_et_lecteur_multimedia_HD,_
l'ensemble_parfait_?/15.html
For more information on the M3800, check out:http://www.thecus.com/products_over.php?cid=23&pid=55
---
About Thecus
®
Thecus® Technology Corp. specializes in IP Storage Server solutions, including Network Attached Storage (
NAS
) , DAS, External Storage and Wireless Media
NAS
(Bank ) products. The company was established in 2004 with the mission to make technology as transparent and easy-to-use as possible, and to make products that are not only the best on the market, but are accessible to experts and novices alike. With a best-in-class R&D team highly experienced in storage hardware and Linux software and with a keen customer focus, Thecus® stays close to the market to develop high-quality products to fulfill the storage Server needs of today's world.
For sales inquiries, please contact us via email:
sales@thecus.com
For marketing inquiries, please contact us via email:
marketing@thecus.com
---
About Thecus®
Established in 2004, Thecus Technology Corp provides market leading network attached storage and network video recorder solutions, committed to revolutionize how everyone from home user to enterprise level business centrally stores, manages and accesses their digital data both onsite and cloud-based. Thecus strives to deliver continuous innovation through cutting edge technology and design to provide data storage with the most customer-friendly platform, rapid performance and robust security. In May 2016, Thecus was formally acquired by Ennoconn Corporation and thus became part of the Foxconn IPC Technology group. Partnered together this diverse group of companies work in tandem to provide a total IoT (Internet of Things) solution. Now with an unparalleled portfolio to work with, Thecus is collaborating to bring unprecedented change to the network storage industry.
For sales inquiries, please contact us via email: sales@thecus.com
For marketing inquiries, please contact us via email: marketing@thecus.com