For sales inquiries,
please contact us at:

sales@thecus.com
For marketing inquiries, please contact us at:

marketing@thecus.com
2006-01-16
Intel Storage Marketing GM Mike Wall shows off N4100 and N2100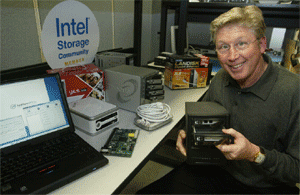 01/16/2006 – With digital content become more and more a part of our daily lives, users everywhere are looking for affordable devices that can store, secure, and share their photos, movies, and videos. Thecus Technology has been at the forefront of creating award winning products that fulfill the needs of these users. Recently, Intel General Manager of Storage Group Marketing Mike Wall was interviewed by the East Valley Tribune, where he answered questions about usage trends and the goals of the Intel Storage Group. To demonstrate the concept of network attached storage, Wall displays the Thecus N4100 and YES Box N2100 for East Valley Tribune editors.
The article begins by introducing the concept of NAS devices: "Storage has traditionally been accomplished with large servers, which are expensive and affordable only to large organizations. But a generation of products is coming on the market that provides large storage capacity in small packages that are more widely affordable. Typically the entry-level storage appliances contain two- to four disk drives, cost between $500 and $1,000 and can store up to two terabytes of information. The new small appliances, which are about the size of a toaster, can store the same amount of data that used to require a large server, said Mike Wall, general manager of Storage Group Marketing. The process of miniaturization in storage technology is similar to what has happened in computers as the computing power once reserved for mainframes has been driven down into laptops."
Intel discusses the trends for NAS: "Intel engineers believe storage devices will become popular in the home within a few years, providing a place to store many digital movies downloaded from the Internet, photos, music and backup for personal computer files. High definition video especially will require greater storage capacity, which could drive the demand for more home storage. Wall expects entry-level storage devices will become common in small business next year, and they could move into the home by 2007."
Finally, the article mentions some interesting statistics from renowned market research firm IDC: "IDC, a market analysis firm, projects that some consumers could need two to three terabytes of home storage within a few years. Requirements for data storage for all purposes are increasing an average of 54 percent each year, and storage capacity is doubling every 18 to 24 months, according to IDC."

To check out the full article, go to: http://www.eastvalleytribune.com/index.php
For more information on Thecus, go to: http://www.thecus.com

---
About Thecus
Thecus® Technology Corp. specializes in IP Storage Server solutions. The company was established in 2004 with the mission to make technology as transparent and easy-to-use as possible, and to make products that are not only the best on the market, but are accessible to experts and novices alike. With a best-in-class R&D team highly experienced in storage hardware and software and with a keen customer focus, Thecus® stays close to the market to develop high-quality products to fulfill the storage needs of today's world.
For more information, please visit the Thecus® website at: http://www.thecus.com
For sales and other inquiries, please contact us via email: sales@thecus.com
---
About Thecus®
Established in 2004, Thecus Technology Corp provides market leading network attached storage and network video recorder solutions, committed to revolutionize how everyone from home user to enterprise level business centrally stores, manages and accesses their digital data both onsite and cloud-based. Thecus strives to deliver continuous innovation through cutting edge technology and design to provide data storage with the most customer-friendly platform, rapid performance and robust security. In May 2016, Thecus was formally acquired by Ennoconn Corporation and thus became part of the Foxconn IPC Technology group. Partnered together this diverse group of companies work in tandem to provide a total IoT (Internet of Things) solution. Now with an unparalleled portfolio to work with, Thecus is collaborating to bring unprecedented change to the network storage industry.
For sales inquiries, please contact us via email: sales@thecus.com
For marketing inquiries, please contact us via email: marketing@thecus.com