For sales inquiries,
please contact us at:

sales@thecus.com
For marketing inquiries, please contact us at:

marketing@thecus.com
2008-09-01
"This little jewel has what it takes to satisfy most any home/small business user"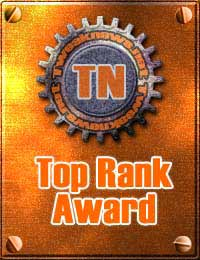 09/01/2008 – The praise keeps coming in for Thecus' five-bay NAS powerhouse, the N5200B PRO. Boasting up to 5TB of capacity, multiple RAID modes, and a laundry list of powerful features, the N5200B PRO has the power and flexibility to impress even the most discerning hardware enthusiast. The editors of TweakNews took the N5200PRO for a test drive, and after putting it through the ringer, discovered that it indeed delivered the goods. In the end, they decided to award it their Top Rank Award!
Here's the summary from TweakNews editors: "It seems that NAS appliances are all the rage now and there are a lot of good reasons for having one in the home environment these days. Safe, accessible mega-storage is what Thecus delivers with the N5200PRO, and they deliver it in spades! It even looks good doing it. With support for up to five terabyte drives and multiple RAID setups, this little jewel has what it takes to satisfy most any home/small business user. Setup is a breeze, too, once you get to the network user interface. While the RAIDs took a long while to build, performance was excellent and the N5200PRO worked as advertised for these several months I've had it running around here. It does what Thecus claims it will, it does it well and the setup and support is well above average."
The performance was also stellar: "With the N5200PRO connected to my Linksys WRT54G router and the network otherwise idle, I copied a large (11.3 GB) file from one SATA drive to another in my computer. This task took 7mins. 12 sec. Moving the same file to the RAID5 on the N5200PRO took 20:55. (mins:secs) Moving the file back to the computer took 20:43. Moving the file to the RAID0 took 20:42 while moving it back took 20:39. Not bad at all!"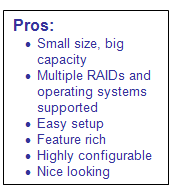 The conclusion: "If you see a high-capacity NAS appliance in your future, I recommend you take a look at the N5200PRO from Thecus.
I think you'll be glad you did."
For the full review, check out:
http://www.tweaknews.net/reviews/thecus_N5200B_pro_nas_review/
For more information on the N5200PRO, check out:
http://www.thecus.com/products_over.php?cid=11&pid=32
---
About Thecus
Thecus® Technology Corp. specializes in IP Storage Server solutions, including Network Attached Storage (NAS) and Wireless Media Bank products. The company was established in 2003 with the mission to make technology as transparent and easy-to-use as possible, and to make products that are not only the best on the market, but are accessible to experts and novices alike. With a best-in-class R&D team highly experienced in storage hardware and software and with a keen customer focus, Thecus® stays close to the market to develop high-quality products to fulfill the storage needs of today's world.
For sales inquiries, please contact us via email: sales@thecus.com
For marketing inquiries, please contact us via email: marketing@thecus.com
---
About Thecus®
Established in 2004, Thecus Technology Corp provides market leading network attached storage and network video recorder solutions, committed to revolutionize how everyone from home user to enterprise level business centrally stores, manages and accesses their digital data both onsite and cloud-based. Thecus strives to deliver continuous innovation through cutting edge technology and design to provide data storage with the most customer-friendly platform, rapid performance and robust security. In May 2016, Thecus was formally acquired by Ennoconn Corporation and thus became part of the Foxconn IPC Technology group. Partnered together this diverse group of companies work in tandem to provide a total IoT (Internet of Things) solution. Now with an unparalleled portfolio to work with, Thecus is collaborating to bring unprecedented change to the network storage industry.
For sales inquiries, please contact us via email: sales@thecus.com
For marketing inquiries, please contact us via email: marketing@thecus.com