For sales inquiries,
please contact us at:

sales@thecus.com
For marketing inquiries, please contact us at:

marketing@thecus.com
2005-03-11
Thecus® introduces the N4100 Storage Appliance based on Intel® 80219 processor featuring Intel XScale® Microarchitecture
Hannover, Germany, March 10, 2005 [CeBIT Booth - Hall: 15 Stand: E37, (1)]
"Do you have a Black Box?" This is the question Thecus® Technology Corporation, a leading maker of IP storage solutions, is asking network users as the company launches its new Thecus® N4100 network Attached Storage (NAS) appliance at this year's CeBIT show. A "Black Box" is known in many industries as the best way to ensure the security of trade secrets or other business or technical information. The Thecus® N4100 storage appliance is designed to store, share, and keep your data safe, and essentially act as the "Black Box" of a digital home or enterprise.
The Thecus® N4100 accommodates four hard disks that provide over one terabyte of storage capacity. With the N4100 you get a substantial increase in data storage capacity and "Black Box" data safety that is easy to setup and operate at an affordable cost. Plug and play installation is quick, and conveniently managed through your web browser.
The Thecus® N4100 functions as a central data server, letting you share data in the multiple PC environment of your home or office. You can read and write files or execute applications that are saved to the N4100 from your network. At home your family can access photos, music, video, and other entertainment files; at work colleagues can access the same project files and applications, all with speed and convenience.
As a "Black Box" the Thecus® N4100 protects your data with a variety of safety features. If any of your hard drives crash, RAID functions let you automatically rebuild your hard drive, ensuring your data's integrity. If a system failure occurs, disk roaming lets you remove the RAID set to minimize downtime and data loss. For convenience the N4100 allows disk hot swapping and use of a hot spare.
With the introduction of the N4100 storage appliance, Thecus® is the world's first company to launch a storage appliance based on the Intel® IOP 80219 that features Intel XScale® Microarchitecture for straightforward, scalable and secure storage that is affordable and easy-to-manage. The N4100 is a world-class terabyte-level network storage appliance with SATA technology and Gigabit Ethernet connectivity. The device also provides RAID 0, 1, 5, JBOD support and energy-savings of more than 35%.
Storing your data on the Thecus® N4100 also provides a significant improvement in overall system performance. By handling all file management tasks, the N4100 allows your system's CPU to focus on computing tasks
The Thecus® N4100 expands as your storage and data safety needs grow. Start off with two hard drives for over 500GB of storage capacity, and then add two more drives when you need it. When you outgrow one N4100, simply add another. Since the N4100 is network-based it provides unlimited scalability, giving you a cost-effective storage solution that will always meet your needs.
A "Black Box" that stores, shares, and keeps your digital information safe, as well as improves your system's performance, the Thecus® N4100 storage appliance is an effective and affordable way to manage and protect your digital life.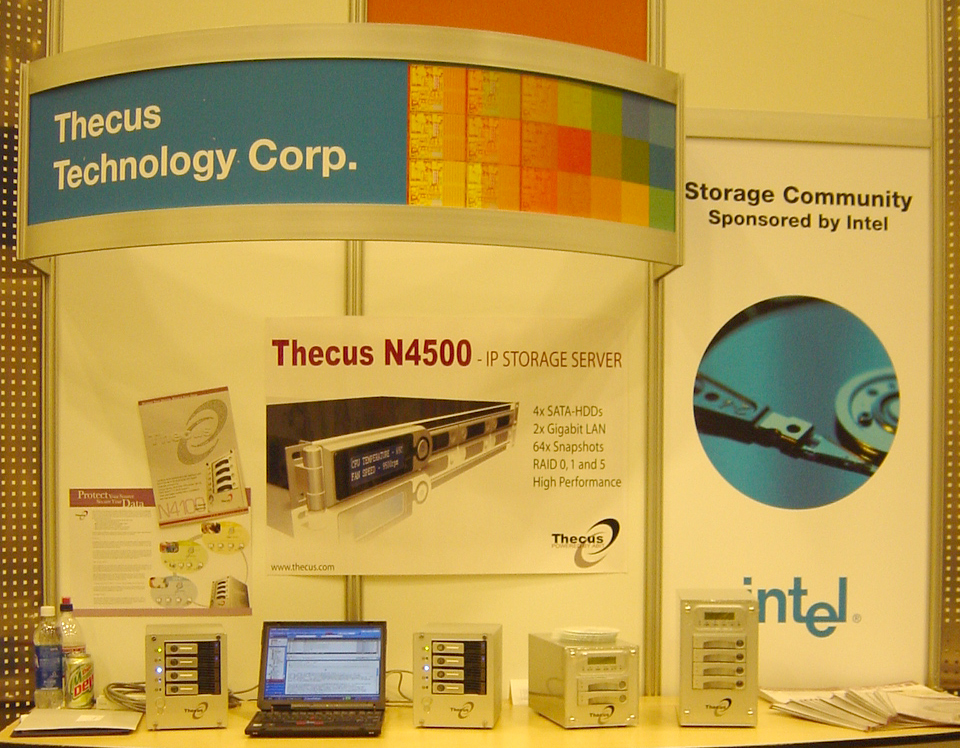 ---
About Thecus
Thecus® Technology Corp. specializes in IP Storage Server solutions. The company was established in 2004 with the mission to make technology as transparent and easy-to-use as possible, and to make products that are not only the best on the market, but are accessible to experts and novices alike. With a best-in-class R&D team highly experienced in storage hardware and software and with a keen customer focus, Thecus® stays close to the market to develop high-quality products to fulfill the storage needs of today's world.
For more information, please visit the Thecus® website at: http://www.thecus.com
For sales and other inquiries, please contact us via email: sales@thecus.com
---
About Thecus®
Established in 2004, Thecus Technology Corp provides market leading network attached storage and network video recorder solutions, committed to revolutionize how everyone from home user to enterprise level business centrally stores, manages and accesses their digital data both onsite and cloud-based. Thecus strives to deliver continuous innovation through cutting edge technology and design to provide data storage with the most customer-friendly platform, rapid performance and robust security. In May 2016, Thecus was formally acquired by Ennoconn Corporation and thus became part of the Foxconn IPC Technology group. Partnered together this diverse group of companies work in tandem to provide a total IoT (Internet of Things) solution. Now with an unparalleled portfolio to work with, Thecus is collaborating to bring unprecedented change to the network storage industry.
For sales inquiries, please contact us via email: sales@thecus.com
For marketing inquiries, please contact us via email: marketing@thecus.com