For sales inquiries,
please contact us at:

sales@thecus.com
For marketing inquiries, please contact us at:

marketing@thecus.com
2008-08-15
"What we have here is one of those 'ultimate' retail NAS appliances"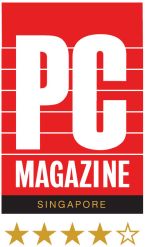 08/15/2008 – In the world of NAS, there are practically limitless choices, but if you are looking for the best five-bay unit around, look no further than Thecus' N5200B PRO. In their August 2008 issue, the editors of PC Magazine Singapore put one of these units to the test, and after running it through the ringer, found little at fault, saying that it was an 'ultimate' retail NAS appliance and giving it a 4 out of 5 star rating!
PC Magazine was blown away with the sheer power of the N5200B PRO: "The N5200 PRO is fitted with 512MB of DDR 333 memory, and an Intel Celeron M processor. It's particularly important for the N5200 PRO to have such a powerful configuration because what it offers is more than just basic file serving. For instance, it can run a RAID 5 or a RAID 6 setup and what's more impressive is the built-in support for iSCSI. So, yes, you can practically build a SAN with N5200 PRO."
A complex device like the N5200B PRO doesn't have to be complicated to use: "Configuration of the N5200 PRO is done through a web interface, and we are delighted to see Thecus keeping many bits of the interface pretty much similar to its other NAS solutions. Consistency in interface design always scores good points, and we found navigating through the N5200 PRO interface is effortless and the administration system is generally very straightforward to use."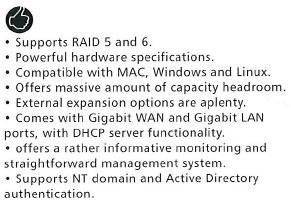 And performance? "Performance of this unit compliments its feature set perfectly. In a RAID 0 setup using two Seagate Barracuda ES 750GB drives, we saw, on average, a file transfer speed of about 33MB/s. This is slightly faster than the Netgear Storage Central Turbo, one of the very fast NAS we have come across."
The conclusion: "All said and done, what we have here is one of those 'ultimate' retail NAS appliances that packs some really serious network storage capabilities making it suitable from being just a simple home storage to being deployed in centralised data storage of an SMB environment."
For the full review, check out the August 2008 issue of PC Magazine Singapore.
For more information on the N5200 PRO, check out: http://www.thecus.com/products_over.php?cid=11&pid=32
---
About Thecus
Thecus® Technology Corp. specializes in IP Storage Server solutions, including Network Attached Storage (NAS) and Wireless Media Bank products. The company was established in 2003 with the mission to make technology as transparent and easy-to-use as possible, and to make products that are not only the best on the market, but are accessible to experts and novices alike. With a best-in-class R&D team highly experienced in storage hardware and software and with a keen customer focus, Thecus® stays close to the market to develop high-quality products to fulfill the storage needs of today's world.
For sales inquiries, please contact us via email: sales@thecus.com
For marketing inquiries, please contact us via email: marketing@thecus.com
---
About Thecus®
Established in 2004, Thecus Technology Corp provides market leading network attached storage and network video recorder solutions, committed to revolutionize how everyone from home user to enterprise level business centrally stores, manages and accesses their digital data both onsite and cloud-based. Thecus strives to deliver continuous innovation through cutting edge technology and design to provide data storage with the most customer-friendly platform, rapid performance and robust security. In May 2016, Thecus was formally acquired by Ennoconn Corporation and thus became part of the Foxconn IPC Technology group. Partnered together this diverse group of companies work in tandem to provide a total IoT (Internet of Things) solution. Now with an unparalleled portfolio to work with, Thecus is collaborating to bring unprecedented change to the network storage industry.
For sales inquiries, please contact us via email: sales@thecus.com
For marketing inquiries, please contact us via email: marketing@thecus.com