For sales inquiries,
please contact us at:

sales@thecus.com
For marketing inquiries, please contact us at:

marketing@thecus.com
2008-05-26
The Future of NAS Coming to Nangang This June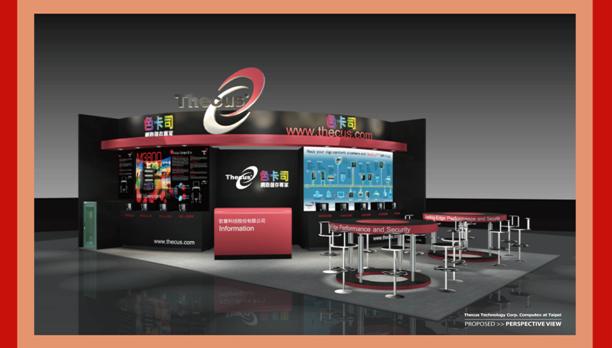 05/26/2008 – Computex Taipei, Asia's largest technology show, will be held from June 3rd to 7th. Boasting nearly 3,000 exhibitors, over 130,000 visitors will get the chance to see the latest and greatest tech gear first hand. Now in its 28th year, Computex will double in size with the addition of the Nangang Exhibition Hall. Thecus Technology will be there to show off the very latest in digital storage, including its new N8800, N7700, N4100PRO, M3800, i5500, and i4500 storage solutions, as well as the exciting new Thecus miniPC.
For those with greater storage needs, the all-new Thecus N8800 and N7700 have you covered. Both N8800 and N7700 are capable of handling a multitude of file serving tasks quickly and effectively. Users can access data via iSCSI, and for even more storage, N8800 and N7700 are also stackable, which means that two N7700s (or N8800s) can work in tandem, doubling the potential storage capacity. For business users, the N8800 and N7700 are the ultimate NAS solutions, and it will make its debut at this year's Computex.
The N8800 features eight hot-swappable hard disk trays that accept standard 3.5" SATAII hard disks for up to 8 terabytes of storage. Multiple RAID modes including RAID 0, 1, 5, 6, 10, 50,and JBOD allows administrators to choose the mode that best fits the enterprise's computing environment.
N7700 features seven SATA bays for up to 7 terabytes of storage. To handle all of that capacity, users can select from a wide variety of RAID modes including RAID 0, 1, 5, 6, 10, 50, 60 and JBOD, and can even have multiple RAID modes operating simultaneously.
Home entertainment buffs will love the new Thecus M3800. Featuring HDMI, component, and AV out, the M3800 can play digital content directly through your existing home theater system. The M3800 supports multiple file formats, and even supports 1080P for playback on today's high-definition displays. What's more, with the included remote control, you can enjoy movies, music, photos and more from the comfort of your living room couch. Equipped with three 3.5" SATA bays, the M3800 brings the security of RAID 5 home, making it a total media playback and secure storage solution.
Also coming to the show will be the N4100PRO. A revamp of the classic N4100, the N4100PRO brings blazing performance to the four-bay NAS space. Fitted with an AMD Geode LX800 CPU and 256MB of DDR memory, the N4100PRO leaves the competition in the dust with nearly double the data throughput performance of the original N4100! Users can choose from RAID 0, 1, 5, 6, 10 and JBOD, and can even take advantage of RAID expansion and RAID level migration should the need arise.
But that's not all. Also making a debut at Computex 2008 is the i5500 iSCSI RAID System. Featuring five SATA II bays and multiple RAID modes including RAID 0, 1, 0+1, 3, 5 6, 10, and JBOD, the i5500 delivers the performance and security demanded by today's data-centric businesses. For those looking for a rackmount solution, the i4500, also making a debut at Computex 2008, will fit the bill nicely. Finally, Thecus will be introducing the Thecus miniPC, a tiny, fully-functional PC that delivers a robust computing experience in an extremely small casing.
Of course, showgoers can also check out the N5200PRO, the world's number one selling 5-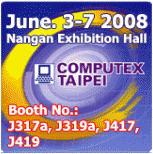 bay NAS, as well as the innovative and compact 1U4500 rackmount NAS. All of these will be on display at this year's Computex exhibition.
To see these exciting new products and more, visit Thecus in the Nangang Exhibition Hall, Booth No. J317a, J319a, J417, and J419 at Computex 2008.
For more information on Computex 2008, visit the official website: http://www.computex.biz/
For more information on Thecus, go to: http://www.thecus.com
---
About Thecus
Thecus® Technology Corp. specializes in IP Storage Server solutions, including Network Attached Storage (NAS) and Wireless Media Bank products. The company was established in 2003 with the mission to make technology as transparent and easy-to-use as possible, and to make products that are not only the best on the market, but are accessible to experts and novices alike. With a best-in-class R&D team highly experienced in storage hardware and software and with a keen customer focus, Thecus® stays close to the market to develop high-quality products to fulfill the storage needs of today's world.
For sales inquiries, please contact us via email: sales@thecus.com
For marketing inquiries, please contact us via email: marketing@thecus.com
---
About Thecus®
Established in 2004, Thecus Technology Corp provides market leading network attached storage and network video recorder solutions, committed to revolutionize how everyone from home user to enterprise level business centrally stores, manages and accesses their digital data both onsite and cloud-based. Thecus strives to deliver continuous innovation through cutting edge technology and design to provide data storage with the most customer-friendly platform, rapid performance and robust security. In May 2016, Thecus was formally acquired by Ennoconn Corporation and thus became part of the Foxconn IPC Technology group. Partnered together this diverse group of companies work in tandem to provide a total IoT (Internet of Things) solution. Now with an unparalleled portfolio to work with, Thecus is collaborating to bring unprecedented change to the network storage industry.
For sales inquiries, please contact us via email: sales@thecus.com
For marketing inquiries, please contact us via email: marketing@thecus.com