For sales inquiries,
please contact us at:

sales@thecus.com
For marketing inquiries, please contact us at:

marketing@thecus.com
2007-10-15
"By far my favourite in terms of NAS devices"

10/15/2007 – The N5200 PRO from Thecus Technology continues to garner praise from hardware media and enthusiast alike. The latest review comes from aptly-named IT-Review, and after spending some quality time with the unit, IT-Review editors loved its over all functionality and design, stating that "...this is one of my favourite devices that I've ever had the pleasure of working with and it's by far my favourite in terms of NAS devices."
Editors begin by introducing the N5200 PRO: "For the purposes of doing some serious testing with this device, I got five 500GB WD drives and installed them inside so I can do all sorts of whacky things - 0/5 configuration, multiple RAID 0 configuration, multiple RAID 1 configuration - which I left as a default thing I'm using now. Installing a hard drive in this device is as easy as 1-2-3 - just put them inside, take a couple of screws, slide the drive in, hook it up and close the keylock. Drive bays look pretty slick and in line with the whole shiny design and I've gotta say this is one really nice looking piece of hardware to have. "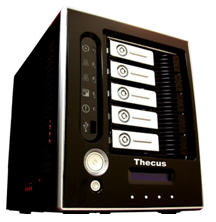 iSCSI support was a big hit with IT-Review: "I was particularly thrilled with the fact that N5200 PRO supports iSCSI which is seriously gaining ground in various security systems all over the world. In this respect, N5200PRO definitely didn't fail - it works flawlessly and I was actually pretty amazed how well it was tuned…I tried it out with various camera configuration and ended up with a setup with camera image quality cranked up to 10 (6Mbit/s) and came to realize that the maximum N5200 PRO can handle is in the 37-38 MB/s (around 300 Mbit/s) region by using iSCSI…If you cut it down to more-then-enough 800 kbit/s range, you could end up having N5200 PRO serving close to four hundred cameras, which is pretty much amazing."
The verdict? "...this is one of my favourite devices that I've ever had the pleasure of working with and it's by far my favourite in terms of NAS devices. It's feature-packed, sits quietly in the corner, does the job...and doesn't require much space, which is another big plus. Well done, Thecus, and keep it up!"
For the full review, check out:
http://it-review.net/index.php?option=com_content&task=view&id=1971&Itemid=1
For more information on the Thecus N5200 PRO, check out:
http://www.thecus.com/products_over.php?cid=12&pid=32
For more information on Thecus, go to:
---
About Thecus
Thecus® Technology Corp. specializes in IP Storage Server solutions, including Network Attached Storage (NAS) and Wireless Media Bank products. The company was established in 2003 with the mission to make technology as transparent and easy-to-use as possible, and to make products that are not only the best on the market, but are accessible to experts and novices alike. With a best-in-class R&D team highly experienced in storage hardware and software and with a keen customer focus, Thecus® stays close to the market to develop high-quality products to fulfill the storage needs of today's world.
For more information, please visit the Thecus® website at: http://www.thecus.com
For sales and other inquiries, please contact us via email: sales@thecus.com
---
About Thecus®
Established in 2004, Thecus Technology Corp provides market leading network attached storage and network video recorder solutions, committed to revolutionize how everyone from home user to enterprise level business centrally stores, manages and accesses their digital data both onsite and cloud-based. Thecus strives to deliver continuous innovation through cutting edge technology and design to provide data storage with the most customer-friendly platform, rapid performance and robust security. In May 2016, Thecus was formally acquired by Ennoconn Corporation and thus became part of the Foxconn IPC Technology group. Partnered together this diverse group of companies work in tandem to provide a total IoT (Internet of Things) solution. Now with an unparalleled portfolio to work with, Thecus is collaborating to bring unprecedented change to the network storage industry.
For sales inquiries, please contact us via email: sales@thecus.com
For marketing inquiries, please contact us via email: marketing@thecus.com