For sales inquiries,
please contact us at:

sales@thecus.com
For marketing inquiries, please contact us at:

marketing@thecus.com
2007-10-05
"The way to a complete storage solution"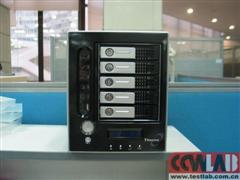 10/05/2007 – With the coming of the digital age, the storage needs of home and enterprise users are quickly increasing. An ideal storage solution should not only have massive storage and fast performance, but also come equipped with a complete array of backup features. Chinese hardware authority China Computing World recently reviewed Thecus' famous N5200 PRO, and after a series of rigorous tests, editors discovered that the N5200's feature set can satisfy a wide variety of users, and recommended the N5200 PRO as "the way to a complete storage solution."
Here's the editors' introduction to the N5200 PRO: "The N5200 PRO's chassis measures 230mm x 190mm x 230mm, which means that it won't take up too much space on an office desk, and heat ventilation holes can be found on the front, back, and both sides of the device. Inside are both CPU and system fans, so even with five hard disks installed and running, the system can effectively dissipate heat to ensure stable operation."
In addition, the report also talked about the robust hard disk security and backup functions: "The N5200 PRO comes with the Thecus Backup Utility and DriveClone3 Pro backup software, allowing users to backup specific files or a complete hard disk backup to the N5200 PRO. When the data on a PC is affected by a virus or corruption, users can immediately restore their files. Supporting five hot-swappable hard disks, the N5200 PRO comes with RAID 0, RAID 1, RAID 5, RAID 6, and RAID 10. The included iSCSI can allow it to act as a local hard disk, giving users the flexibility to use the N5200 in a number of different ways. For enterprise users, gamers, and individual users, the N5200 PRO is a great networked storage solution."
The conclusion: "The N5200 PRO from Thecus Technology is a NAS device that supports 5 SATA hard disks. It has the flexibility for multiple RAID modes, which satisfies users' requirements for quality, security and storage. In addition, features like iSCSI, SMB/CIFS, and FTP can meet the varied requirements of many different users."
To read the full review, go to:
http://www.testlab.com.cn/html/pingku/20070924/394.html
http://www2.ccw.com.cn/weekly/product/htm2007/20070922_321006.shtml
For more information on the N5200 PRO, go to: http://www.thecus.com/products_over.php?cid=1&pid=32
For more information on Thecus, check out: http://www.thecus.com
---
About Thecus
Thecus® Technology Corp. specializes in IP Storage Server solutions. The company was established in 2004 with the mission to make technology as transparent and easy-to-use as possible, and to make products that are not only the best on the market, but are accessible to experts and novices alike. With a best-in-class R&D team highly experienced in storage hardware and software and with a keen customer focus, Thecus® stays close to the market to develop high-quality products to fulfill the storage needs of today's world.
For more information, please visit the Thecus® website at: http://www.thecus.com
For sales and other inquiries, please contact us via email: sales@thecus.com
---
About Thecus®
Established in 2004, Thecus Technology Corp provides market leading network attached storage and network video recorder solutions, committed to revolutionize how everyone from home user to enterprise level business centrally stores, manages and accesses their digital data both onsite and cloud-based. Thecus strives to deliver continuous innovation through cutting edge technology and design to provide data storage with the most customer-friendly platform, rapid performance and robust security. In May 2016, Thecus was formally acquired by Ennoconn Corporation and thus became part of the Foxconn IPC Technology group. Partnered together this diverse group of companies work in tandem to provide a total IoT (Internet of Things) solution. Now with an unparalleled portfolio to work with, Thecus is collaborating to bring unprecedented change to the network storage industry.
For sales inquiries, please contact us via email: sales@thecus.com
For marketing inquiries, please contact us via email: marketing@thecus.com