For sales inquiries,
please contact us at:

sales@thecus.com
For marketing inquiries, please contact us at:

marketing@thecus.com
2010-09-29
Thecus wins a 63-store bid with innovation and performance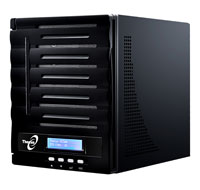 09/29/2010- Carrefour, the world's second largest retailer and Taiwan's dominant high-end grocery store chain, recently came to Thecus with an interesting proposition: To build them a massive iSCSI file server network across their 63 stores in Taiwan with a central control system, and to do it fast! After seeing SmallNetBuilder.com's review of the Thecus N5500's outstanding performance, particularly with iSCSI, they decided that Thecus was their only possible choice. This network needed to be capable of first storing their entire computer system as they perform a complete overhaul and replacement, and then acting as a file server for their most important data. A task like this takes not only good products and industry knowhow, but it also requires innovative strategies and solutions.

The first step was to figure out how to set up 63 Thecus N5500 NAS with as little wasted time as possible. Working closely with Carrefour, Thecus programmers put together a custom made USB Auto Set-Up system. To do this, an automated configuration file was created containing all the settings needed to get each NAS online and ready to access this complicated system. The file was then put on flash drives and inserted into each NAS, automatically setting up each one to Carrefour's specifications, saving countless hours of setup.
Carrefour then went ahead and used their new Thecus NAS network to store their entire file system as they replaced all 63 stores' computers. When they were finished, it was simple to use their Central Control System to restore all of the data and have their system up and running without a hitch. This system receives data from each of the 63 NAS connected to the internal network, so any information, warning, or error messages can be received and processed from a single location.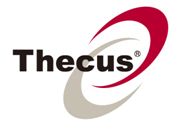 "We are very honored to work with Carrefour," said Thecus General Manager Florence Shih. "Thecus has always provided users the fastest and most stable NAS on the market. In this case, however, meeting the client's needs with customization and creativity, not only the N5500's performance, has been the key to winning this bid."
For more information on the Thecus N5500 NAS, please go to: http://www.thecus.com/products_over.php?cid=11&pid=143&set_language=english
---
About Thecus®
Thecus® Technology Corp. specializes in IP Storage Server solutions, including Network Attached Storage (NAS) , DAS, External Storage and Wireless Media NAS (Bank ) products. The company was established in 2004 with the mission to make technology as transparent and easy-to-use as possible, and to make products that are not only the best on the market, but are accessible to experts and novices alike. With a best-in-class R&D team highly experienced in storage hardware and Linux software and with a keen customer focus, Thecus® stays close to the market to develop high-quality products to fulfill the storage Server needs of today's world.
For sales inquiries, please contact us via email: sales@thecus.com
For marketing inquiries, please contact us via email: marketing@thecus.com
---
About Thecus®
Established in 2004, Thecus Technology Corp provides market leading network attached storage and network video recorder solutions, committed to revolutionize how everyone from home user to enterprise level business centrally stores, manages and accesses their digital data both onsite and cloud-based. Thecus strives to deliver continuous innovation through cutting edge technology and design to provide data storage with the most customer-friendly platform, rapid performance and robust security. In May 2016, Thecus was formally acquired by Ennoconn Corporation and thus became part of the Foxconn IPC Technology group. Partnered together this diverse group of companies work in tandem to provide a total IoT (Internet of Things) solution. Now with an unparalleled portfolio to work with, Thecus is collaborating to bring unprecedented change to the network storage industry.
For sales inquiries, please contact us via email: sales@thecus.com
For marketing inquiries, please contact us via email: marketing@thecus.com