For sales inquiries,
please contact us at:

sales@thecus.com
For marketing inquiries, please contact us at:

marketing@thecus.com
2006-08-14
Outstanding design and performance snags 9 out of 10 score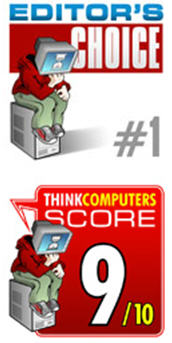 08/14/2006 – With the capacity for two hard disks and an eSATA interface, the Thecus N2050 allows users to store a ton of data and get to it quickly. Editors at Think Computers recently tested the Thecus N2050, and were extremely impressed with its sleek design and impressive performance, awarding it a score of 9 out of 10, and their coveted Editor's Choice Award!
The N2050's data transfer performance is second to none: "The results were impressive in support of eSATA. I was hesitant of whether this new external data transfer standard would really be all that it's been worked up to be, but it certainly was - and more!…The external drive is running at faster data transfer and random access speeds than my internal ATA100 drives. That right there is a remarkable feat, given that most people with external drives are currently using USB 2.0 and limited to the extent at which it can transfer. The advance RAID capabilities and features put into this Thecus drive really do show off how much better performance a drive with all these features would perform compared to any other external drive without them."
The design of the N2050 is impressive: "This drive has everything you could want and more in an external enclosure. I haven't seen anything this well built that has not only RAID capabilities on two drives inside the enclosure, but also components that help this perform better than most internal drives...The entire thing looks smooth and runs smooth. It's quiet, it has a fan for cooling, and it has bright LEDs in the front. It looks like a miniature box with metallic painted sides and, although a bit bulky, will fit in on any desk."
The conclusion: "This external drive from Thecus is one of the best external drive options with great features to add upwards of 1TB of data to your computer. The deluxe edition with the PCI eSATA card is worth every penny more to get and use eSATA and its incredibly high speed transfers rates. This enclosure is an all around excellent product from Thecus. Recommended for any and all external expansion needs. ThinkComputers gives the ThecusN2050 RAID External Hard Drive Enclosure a 9 out of 10 and our Editor's Choice Award."
For the full review, check out: http://www.thinkcomputers.org/index.php?x=reviews&id=457&page=1
For more information on the ThecusN2050, check out: http://www.thecus.com/products_over.php?cid=1&pid=3
For more information on Thecus, go to: http://www.thecus.com/
---
About Thecus
Thecus® Technology Corp. specializes in IP Storage Server solutions, including Network Attached Storage (NAS) and Wireless Media Bank products. The company was established in 2003 with the mission to make technology as transparent and easy-to-use as possible, and to make products that are not only the best on the market, but are accessible to experts and novices alike. With a best-in-class R&D team highly experienced in storage hardware and software and with a keen customer focus, Thecus® stays close to the market to develop high-quality products to fulfill the storage needs of today's world.
For more information, please visit the Thecus® website at: http://www.thecus.com
For sales and other inquiries, please contact us via email: sales@thecus.com
---
About Thecus®
Established in 2004, Thecus Technology Corp provides market leading network attached storage and network video recorder solutions, committed to revolutionize how everyone from home user to enterprise level business centrally stores, manages and accesses their digital data both onsite and cloud-based. Thecus strives to deliver continuous innovation through cutting edge technology and design to provide data storage with the most customer-friendly platform, rapid performance and robust security. In May 2016, Thecus was formally acquired by Ennoconn Corporation and thus became part of the Foxconn IPC Technology group. Partnered together this diverse group of companies work in tandem to provide a total IoT (Internet of Things) solution. Now with an unparalleled portfolio to work with, Thecus is collaborating to bring unprecedented change to the network storage industry.
For sales inquiries, please contact us via email: sales@thecus.com
For marketing inquiries, please contact us via email: marketing@thecus.com