For sales inquiries,
please contact us at:

sales@thecus.com
For marketing inquiries, please contact us at:

marketing@thecus.com
2015-08-10
"Das Thecus N5810PRO ist vom Funktionsumfang eine Eier-legende Wollmilchsau."

10/08/2015- HardwareLUXX ist ein deutsches IT-Medium mit dem Fokus auf High-End User und PC Enthusiasten. Der durchschnittliche Leser ist gut über Computer informiert, das ist mitunter auch der Grund warum HardwareLUXX viele komplexere und detaillierte Artikel und Anleitungnen von High-End Produktenveröffentlicht, so zum Beispiel über das Thecus N5810PRO.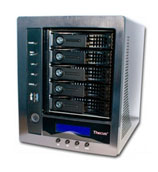 " Im Inneren des N5810 verrichtet ein Intel Celeron J1900 (2 GHz, Quad-Core, SoC) seinen Dienst, dem ab Werk 4 GB DDR3-Speicher zur Verfügung stehen. Die Speicherausstattung ist aufrüstbar auf bis zu 8 GB, was gerade beim Einsatz in größeren Netzen mit entsprechender Arbeitslast sinnvoll sein dürfte. Zur Anbindung an das Netzwerk stehen rückseitig fünf Gigabit-Ports bereit, die bei Einsatz eines geeignetes Switches per Bonding zusammengeschaltet werden können. Support für Wake-On-LAN (WOL) ist ebenfalls vorhanden."
"Das integrierte Netzteil ist mit 130 Watt beziffert. Der Lithium-Ionen-Akku kommt in Form eines zusätzlichen "Packs", welches rückseitig im N5810 verschraubt wird und als Mini-USV dient. Den Status des Akkus kann man sowohl über das Webfrontend einsehen, als auch über das verbaute Display an der Front."
" Um die integrierte USV bzw. die Stärke des Akkus zu testen, haben wir im eingeschalteten Zustand des N5810 den Stecker gezogen. Sobald das NAS registriert, dass die reguläre Stromversorgung unterbrochen wurde, macht es sich mit einem regelmäßigen Warnton bemerkbar. Am Betriebszustand ändert sich während dessen nichts, die Festplatten laufen normal weiter. Zusätzlich wird im Systemlog ein Eintrag "The AC power loss and switch to battery power" protokolliert. Bei unserem Setup mit vier verbauten WD20EFRX im Idle-Betrieb initiierte das N5810 nach rund 4 Minuten und 10 Sekunden den automatischen Shutdown."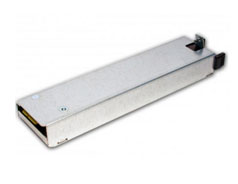 Features
"Besonders erwähnenswert ist in diesem Kontext das neue Feature "Clone and Wipe". Angeschlossene Festplatten (egal ob über SATA oder USB angebunden) können darüber mit wenigen Mausklicks geklont bzw. sicher gelöscht werden. Zur Unterstützung der mobilen Nutzung hat Thecus Apps wie T-OnTheGo and T-Dashboard im Programm, die mittels der Thecus-ID Zugriff auf das heimische NAS bieten. Zusaätzlich bietet der ständig wachsende App-Katalog zur Erweiterung des N5810 mehr als 700 verschiedene Anwendungen, die zusätzliche Funktionen und Sichten kostenfrei bereitstellen."
Fazit
"Das Thecus N5810 ist vom Funktionsumfang [..] eine Eier-legende Wollmilchsau, [..].Fünf HDD-Slots bieten ausreichend Platz für ein gut dimensioniertes RAID mit Erweiterungspotential, weitere fünf LAN-Ports ermöglichen bei adäquater restlicher Hardware (Switch, Client-PCs) einen enormen Performance-Schub. Der verbaute 2 Ghz QuadCore mit seinen 4 GB RAM bringt genügend Reserven mit, um zahlreiche Nutzer zufrieden zu stellen und auch die unterschiedlichsten Netzwerkdienste/Server parallel betreiben zu können. Letztlich rundet die integrierte USV das Portfolio durch einen sinnvollen Schutz gegen Stromausfall ab, für die sich das N5810 Pro einen Technik Award verdient."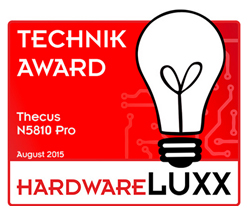 Vorteile:
integrierte USV gegen Stromausfall
Fünf Ethernet-Ports
HDMI-Ausgang (HTPC-Betrieb möglich)
Featues (u.a. USB-Clone/Wipe) und weitere Apps
Front-Display
Vielen Dank an Jens Wrede und das Team von from HardwareLUXX für diesen Test.
Den vollständigen Artikel des Thecus N5810PRO von HardwareLUXX erhalten Sie auf:
http://www.hardwareluxx.de/index.php/artikel/hardware/netzwerk/35345-thecus-n5810-pro-im-test.html?start=7
Für weitere Informationen, wo Sie dieses Produkt erhalten können, bitte gehen Sie auf:
http://german.thecus.com/wtb.php
Für weitere Informationen über das Thecus N5810PRO, bitte gehen Sie auf:
http://german.thecus.com/product.php?PROD_ID=108
---
About Thecus®
Established in 2004, Thecus Technology Corp provides market leading network attached storage and network video recorder solutions, committed to revolutionize how everyone from home user to enterprise level business centrally stores, manages and accesses their digital data both onsite and cloud-based. Thecus strives to deliver continuous innovation through cutting edge technology and design to provide data storage with the most customer-friendly platform, rapid performance and robust security. In May 2016, Thecus was formally acquired by Ennoconn Corporation and thus became part of the Foxconn IPC Technology group. Partnered together this diverse group of companies work in tandem to provide a total IoT (Internet of Things) solution. Now with an unparalleled portfolio to work with, Thecus is collaborating to bring unprecedented change to the network storage industry.
For sales inquiries, please contact us via email: sales@thecus.com
For marketing inquiries, please contact us via email: marketing@thecus.com