For sales inquiries,
please contact us at:

sales@thecus.com
For marketing inquiries, please contact us at:

marketing@thecus.com
2006-05-01
" Couldn't be easier, I'd say. "

05/01/2006 – The editors at ITReview recently took at look at Thecus' YES Box N2100, and were very impressed with its features, design, and ease of use. Here, editors describe the available storage options: "You can have RAID 0 (Striping), RAID 1 (Mirroring) and JBOD (Expansion) mode on…Formatting hard drives is a very easy procedure - it took some two minutes for RAID level 0 and JBOD, around 112 minutes for RAID1). You just select these things from the menu, click your mouse, wait for a while and there you go - you have a fully functional RAID device. Couldn't be easier, I'd say."
The feature set of the YES Box N2100 is impressive: "When you take a look at the back, you can see that this is not "just another barebone with some addons" device. You can use up to three USB 2.0 ports, and there's always a possibility of using wireless. The file system compatibility list is good - SMB/CIFS, HTTP/HTTPS, FTP...We also tried the One Touch Copy function, which worked without any problems… I'd say that the speed is somewhere in the 6-7 MB/s range which is pretty good - no complaints here."
Here is the conclusion: "Thing that I liked the most about this device is the small size and flexibility, coupled with two Gigabit Ethernet ports...From my personal point of view, this device is really cool. You don't hear it, you don't see it, but it does the job. And the design team should get an award - it's so damn cute that it even broke my wife's heart because we have to part our ways with it. And we just got used to it, stuffing it up with files."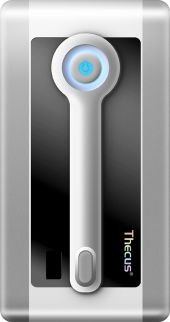 Pros
- Very easy to configure through web interface
- No need for monitor, VGA card, anything
- Two Gigabit Ethernet ports
- Compatibility - FTP, iTunes, File Sharing
- USB 2.0 to extend the storage size
- One Button Copy
- You won't even notice it's there once you do the configuring, it's THAT SMALL
- You can stack a hundred TB's of storage by using little space
- Noiseless - background noise makes it completely unnoticeable
- RAID 0, 1, JBOD support
- Good performance for small needs

For the full review, go to:
http://it-review.net/index.php?option=com_content&task=view&id=495&Itemid=1
For more information on the Thecus YES Box N2100, check out:
http://www.thecus.com/products_over.php?cid=1&pid=1
For more information on Thecus, go to: http://www.thecus.com/

---
About Thecus
Thecus® Technology Corp. specializes in IP Storage Server solutions, including Network Attached Storage (NAS) and Wireless Media Bank products. The company was established in 2003 with the mission to make technology as transparent and easy-to-use as possible, and to make products that are not only the best on the market, but are accessible to experts and novices alike. With a best-in-class R&D team highly experienced in storage hardware and software and with a keen customer focus, Thecus® stays close to the market to develop high-quality products to fulfill the storage needs of today's world.
For more information, please visit the Thecus® website at: http://www.thecus.com/
For sales and other inquiries, please contact us via email: sales@thecus.com
---
About Thecus®
Established in 2004, Thecus Technology Corp provides market leading network attached storage and network video recorder solutions, committed to revolutionize how everyone from home user to enterprise level business centrally stores, manages and accesses their digital data both onsite and cloud-based. Thecus strives to deliver continuous innovation through cutting edge technology and design to provide data storage with the most customer-friendly platform, rapid performance and robust security. In May 2016, Thecus was formally acquired by Ennoconn Corporation and thus became part of the Foxconn IPC Technology group. Partnered together this diverse group of companies work in tandem to provide a total IoT (Internet of Things) solution. Now with an unparalleled portfolio to work with, Thecus is collaborating to bring unprecedented change to the network storage industry.
For sales inquiries, please contact us via email: sales@thecus.com
For marketing inquiries, please contact us via email: marketing@thecus.com