For sales inquiries,
please contact us at:

sales@thecus.com
For marketing inquiries, please contact us at:

marketing@thecus.com
2006-03-29
" Do we like the N2050? Hell yes, it's great."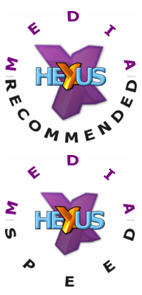 03/30/2006 –With the amount of digital media accumulating in our daily lives, a convenient way to store this data is becoming a necessity. The N2050 features great eSATA performance and true ease-of-use, and Hexus found this to be very true in its latest review. So much, in fact, Hexus editors decided to award it with not one, but two awards!
Hexus introduces the YES Box N2050: "The N2050 is, at the end of the day, a swanky mass storage device. That means it's pretty much plug and play for any OS, certainly over USB, and if you want to cheat and make it a NAS style device, then if you attach it to a machine that's on all the time, you can set it up as a shared drive, or add it to your FTP server's paths, whatever tickles your fancy."
Performance and ease-of-use are hallmarks of the N2050: "What we're trying to say here, is that it's pretty easy to set up, providing you know how a screwdriver works....The bottom line is that performance is good... impressive even. Using eSATA, transfer rates are comparable to that of an internal RAID solution, and it would be wrong of us to expect more than we got from USB 2.0...With the N2050 on eSATA DAS, it's as though you're using an internal RAID array. Performance is impressive, and the reliability that RAID 1 brings is always welcomed. Based on the N2100 case, it's as well built and reliable as it is quick, so a pat on the back for Thecus...the N2050 is well constructed, and it does its own RAID management...no extra CPU load for speed/security, thanks."
The verdict: "Do we like the N2050? Hell yes, it's great. You do have to fork out a fair bit for it, though, when you consider £100 will get you a drive-less product. Then you've got to make sure the drives you buy are compatible. Still, we like the idea and the implementation. Bottom line time. Thecus' N2050 is a great product. If you need an external storage solution that performs well, while giving the option of data security, and can live with DAS instead of NAS, the N2050 is definitely worth it. Make sure you're going to benefit from the features it provides though; ensure it's £100 well spent, or else get something simpler and cheaper. Recommended to the media enthusiast who needs somewhere to keep their overflowing collection of encoded files and highly commended for its performance over eSATA."
For the full review, please go to: http://www.hexus.net/content/item.php?item=4817&page=1&key=1141565615For more information on Thecus, please go to: http://www.thecus.com/
---
About Thecus
Thecus® Technology Corp. specializes in IP Storage Server solutions. The company was established in 2004 with the mission to make technology as transparent and easy-to-use as possible, and to make products that are not only the best on the market, but are accessible to experts and novices alike. With a best-in-class R&D team highly experienced in storage hardware and software and with a keen customer focus, Thecus® stays close to the market to develop high-quality products to fulfill the storage needs of today's world.
For more information, please visit the Thecus® website at: http://www.thecus.com
For sales and other inquiries, please contact us via email: sales@thecus.com
---
About Thecus®
Established in 2004, Thecus Technology Corp provides market leading network attached storage and network video recorder solutions, committed to revolutionize how everyone from home user to enterprise level business centrally stores, manages and accesses their digital data both onsite and cloud-based. Thecus strives to deliver continuous innovation through cutting edge technology and design to provide data storage with the most customer-friendly platform, rapid performance and robust security. In May 2016, Thecus was formally acquired by Ennoconn Corporation and thus became part of the Foxconn IPC Technology group. Partnered together this diverse group of companies work in tandem to provide a total IoT (Internet of Things) solution. Now with an unparalleled portfolio to work with, Thecus is collaborating to bring unprecedented change to the network storage industry.
For sales inquiries, please contact us via email: sales@thecus.com
For marketing inquiries, please contact us via email: marketing@thecus.com